Decorations
20 Easy DIY Carved Pumpkins for Your Halloween Decor
Are you decorating for Halloween? Well, if you are, you will not doubt add some pumpkin decorations to your home.
As we all know, pumpkins and Halloween go hand-in-hand. We eat them or they are added as a garnish.
Well, the pumpkins all over the place when it is Fall and Halloween. So, if you are planning to decorate your home with pumpkins, you can get creative by engraving them.
Pumpkin carving isn't new to us. As a matter of fact, any artist managed to create a very detailed and impressive pumpkin carvings used as a decoration of the house.
Sure, you want to see what you can do with your decorations this here. Therefore, here are some super unique carving ideas that will no doubt inspire some serious creative DIY Halloween decoration:
1. Glitter Candles Carved In The Pumpkin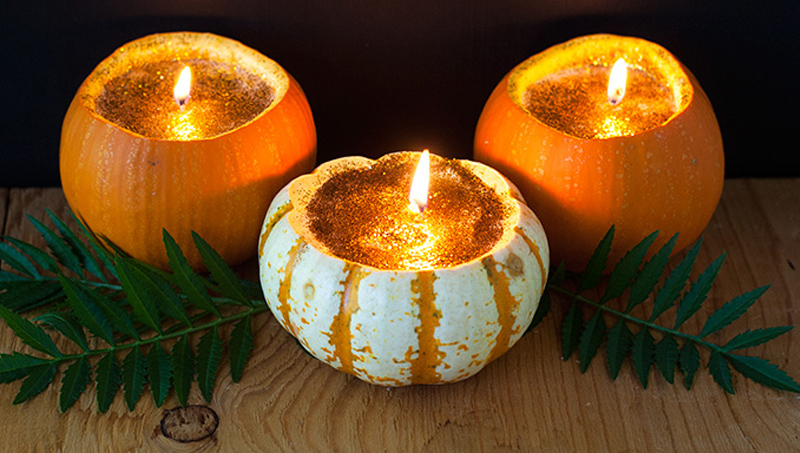 Love glitter? Then why not add a glitter to your carved pumpkin? Game by adding a wax on top of that!
2. Constellation Carved In The Pumpkin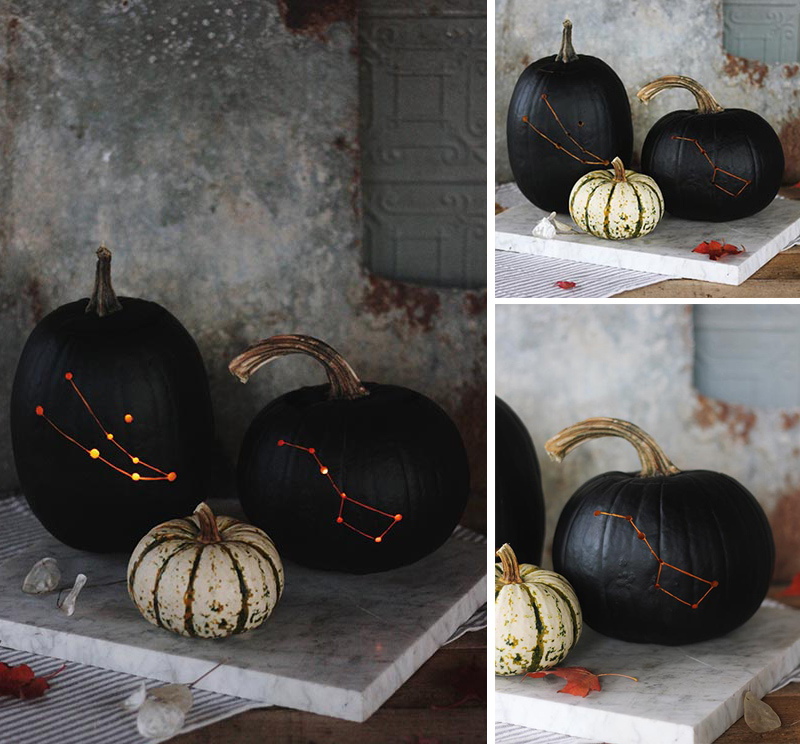 If you love the stars and the planets, you can really bring the night sky right to your home by making this. This certainly is a simple minimal approach to carving!
3. Diorama Carved In The Pumpkin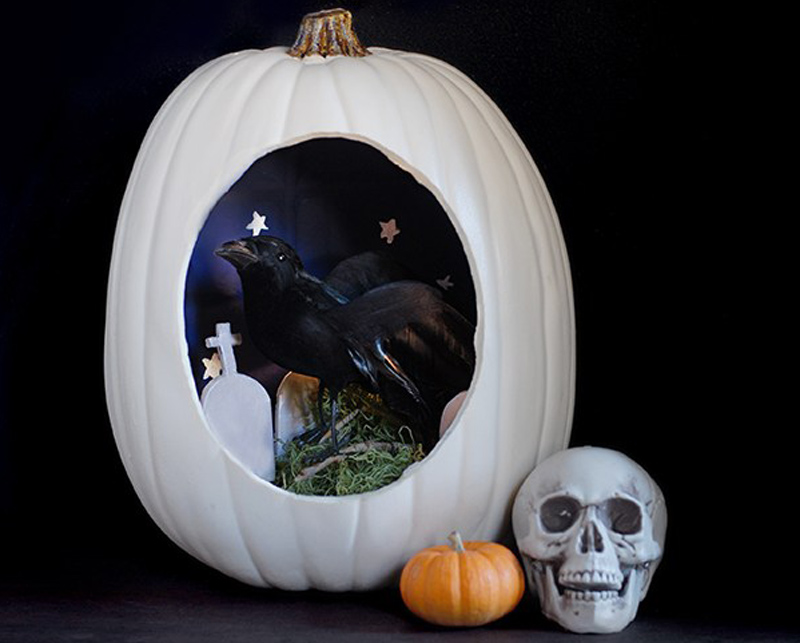 Isn't this a grave diorama a brilliant idea? This decoration will surely bring your creativity to the next level. You can also use a plastic pumpkin to decorate. And grab lots of scary props that you can use to complete your diorama.
4. Gold Geometric Pumpkins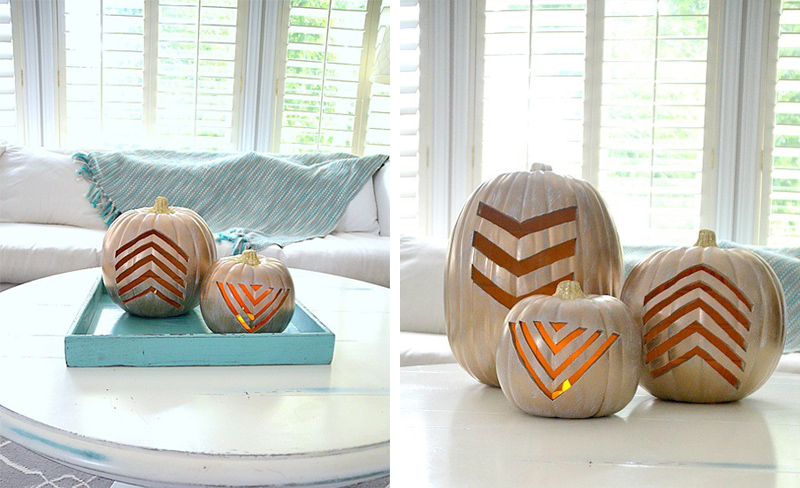 For those who want a stylish modern decor pumpkin, this one will be a good idea. It looked really beautiful despite the simple design.
5. Peekaboo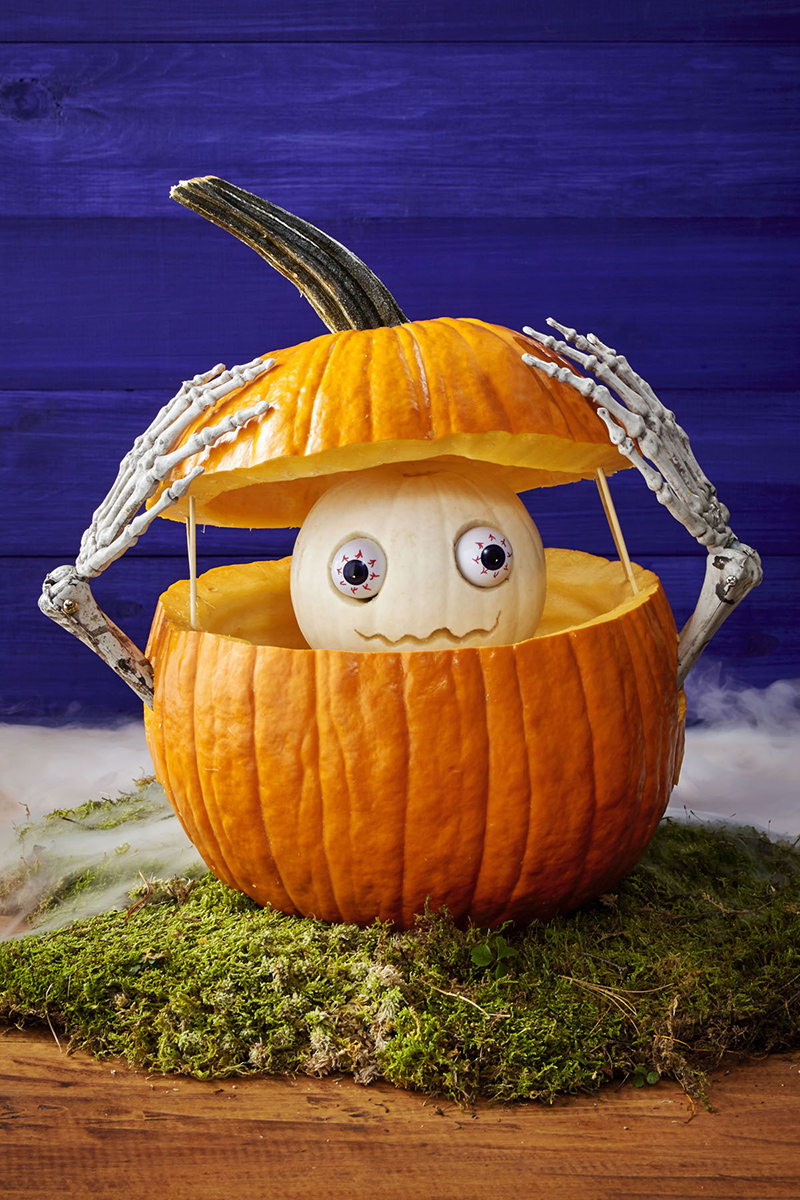 This is really cute! After carving your pumpkin, add a little more pumpkin in with the eyes. Then add a plastic skeleton hand in hand so it will look like a little guy saying, "Peekaboo!"
6. Lantern Pumpkin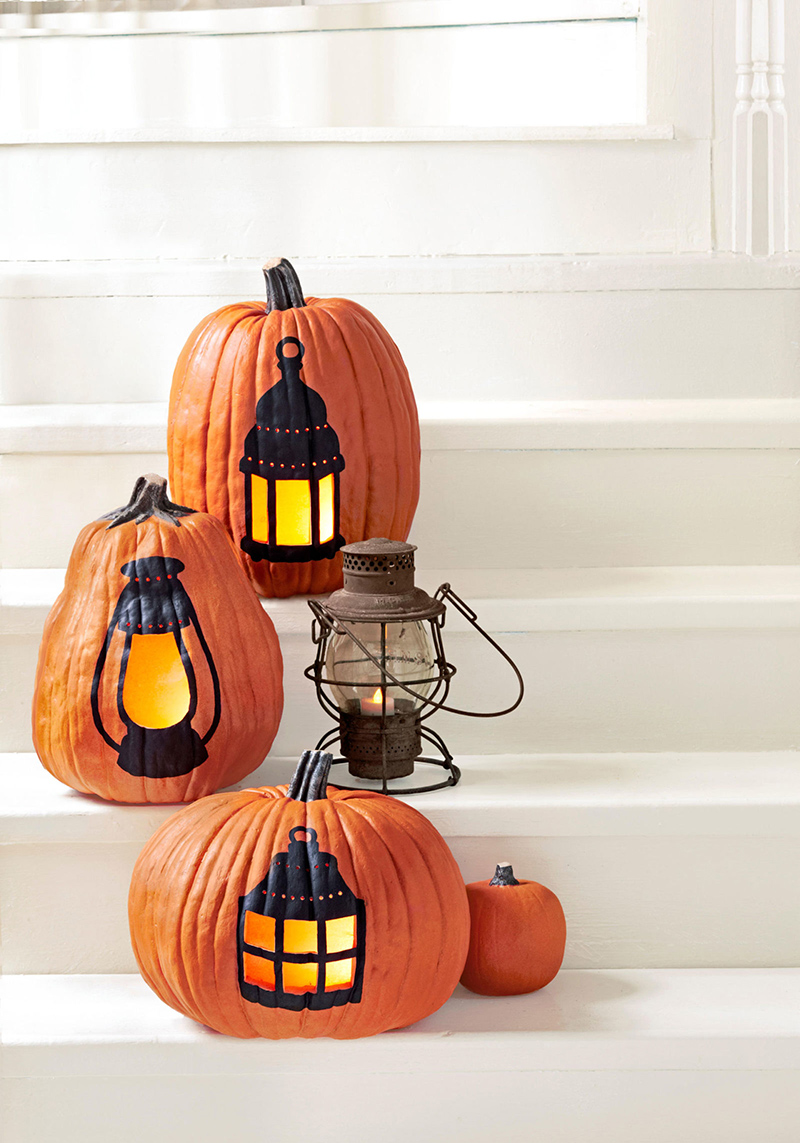 This one is also easy. Just carve out some rectangular holes in your pumpkin and then paint some lights in it. And add a tea light to achieve this look!
7. DIY Pumpkin Crafts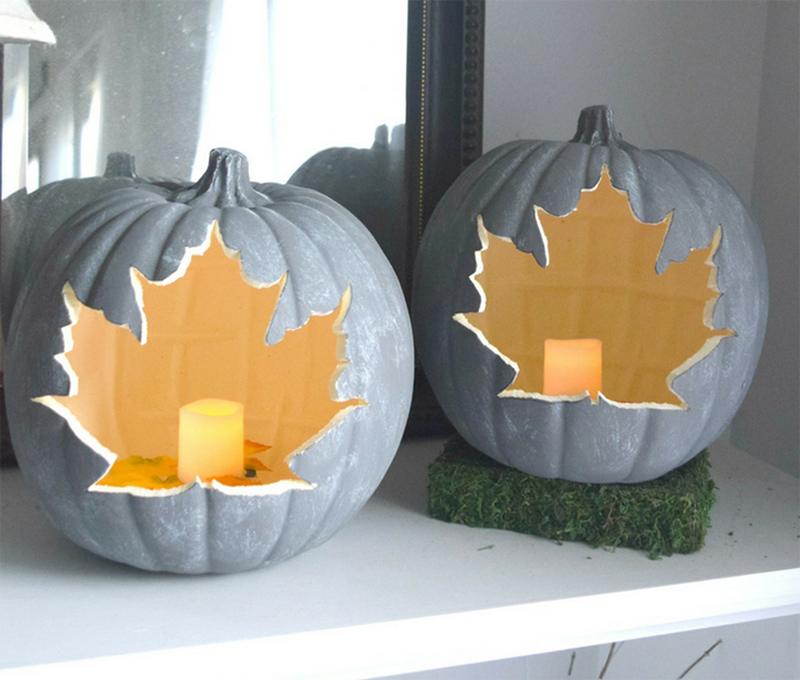 If you want a pumpkin that will also be the perfect fall decor, then carve the shape of the leaves before adding a candle in it. Don't forget to paint it first before carving.
8. Skeleton Carved In The Pumpkin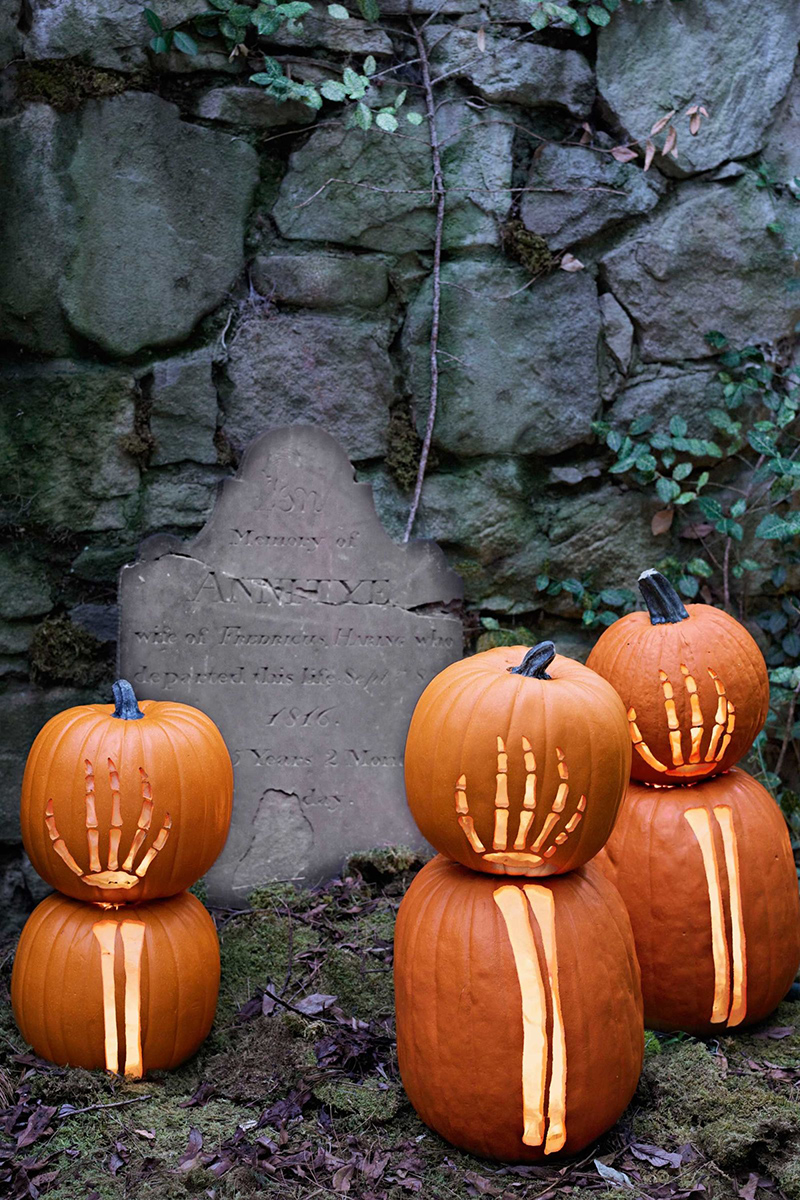 This one looks a little creepy but pretty interesting! This burial-inspired pumpkin will look amazing when they are all lit up throughout the night!
9. Pumpkin Teeth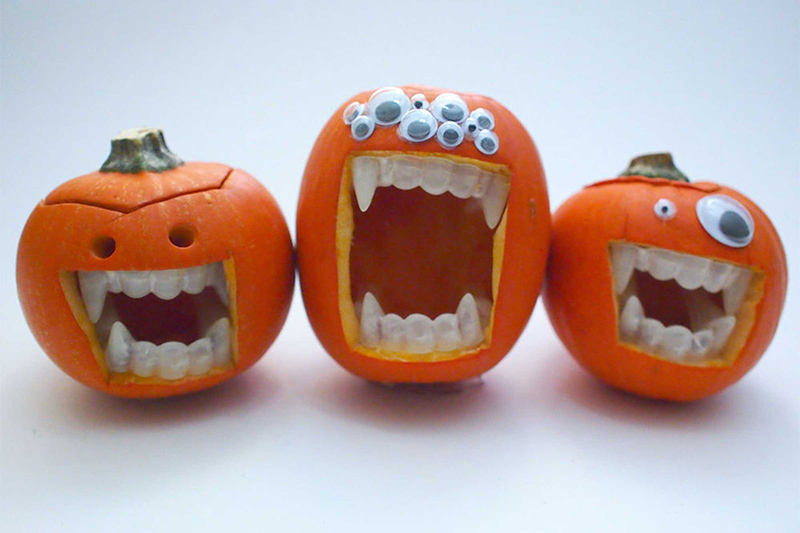 Got some glow in the dark plastic vampire teeth? Why not use them to your pumpkin! Add some googly eyes too!
10. We See You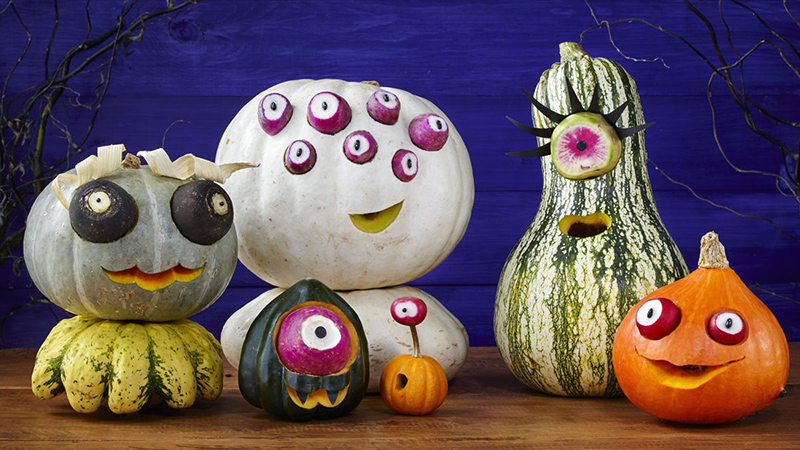 How about a bunch of monsters? Bring out your pumpkin and beautiful pumpkin so you can decorate them with carrot and radish pepper.
11. Lollipop Pumpkin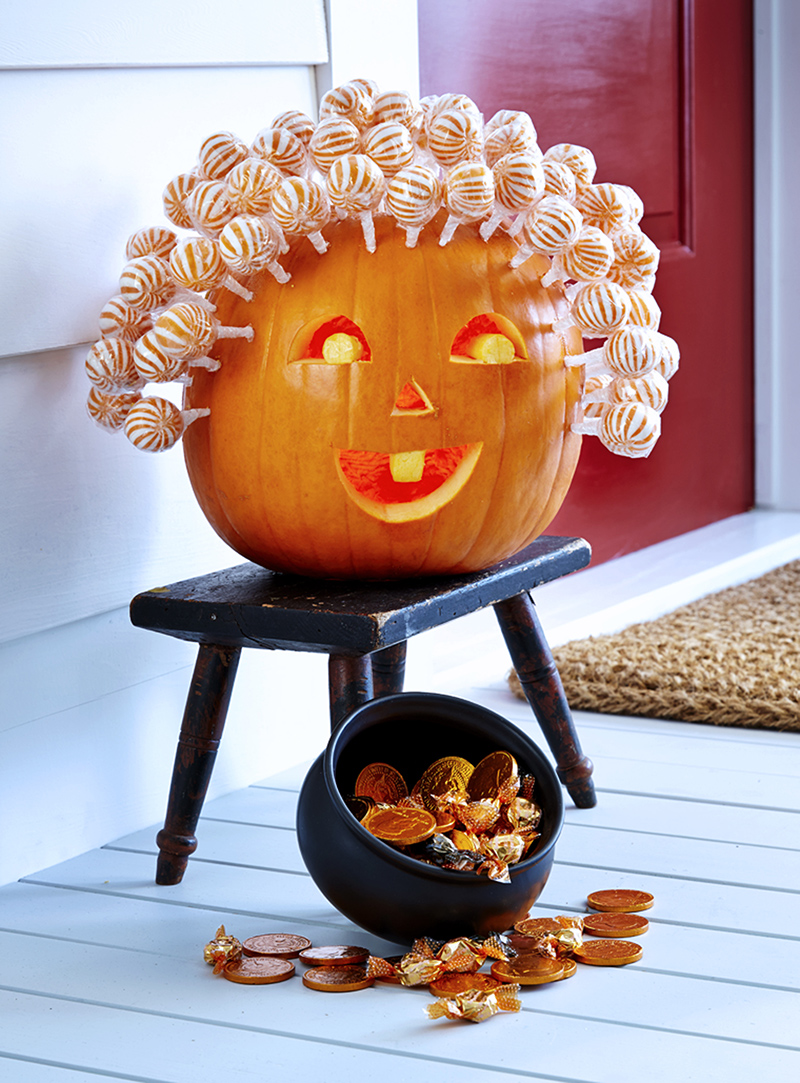 It's a creative way to hold treats! Orange lollipops pumpkin hair.
12. Kitty Pumpkin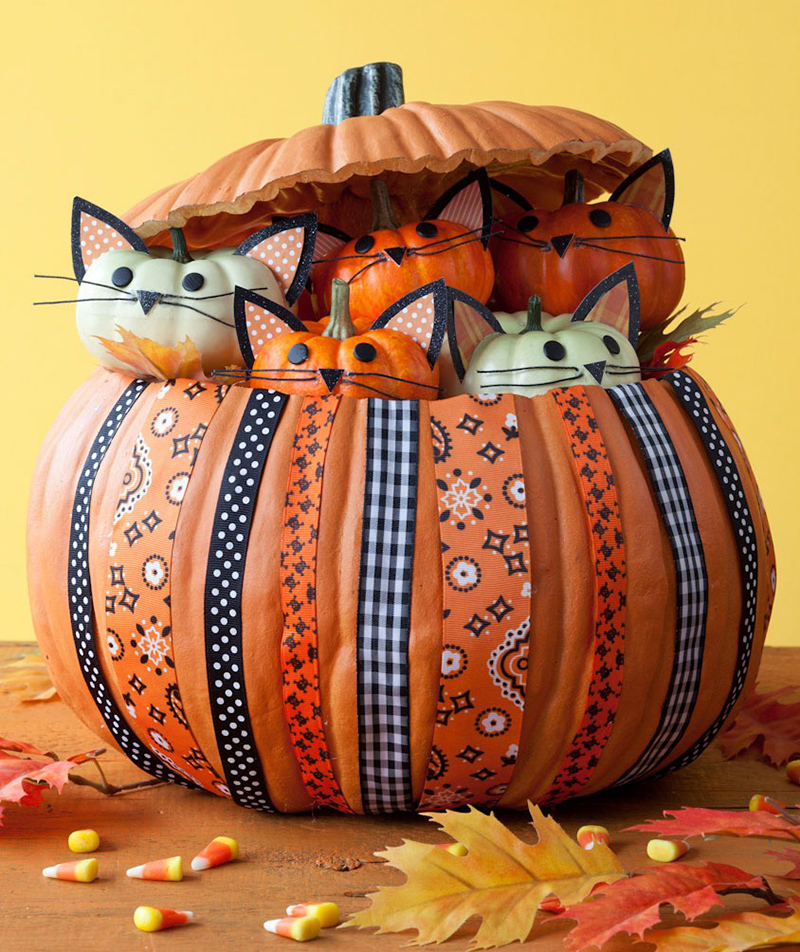 This is such a cute pumpkin ship that will last more than one season. You can use a large pumpkin and a small fake pumpkin. Be creative with your tape print too!
13. Vampire Pumpkin Candles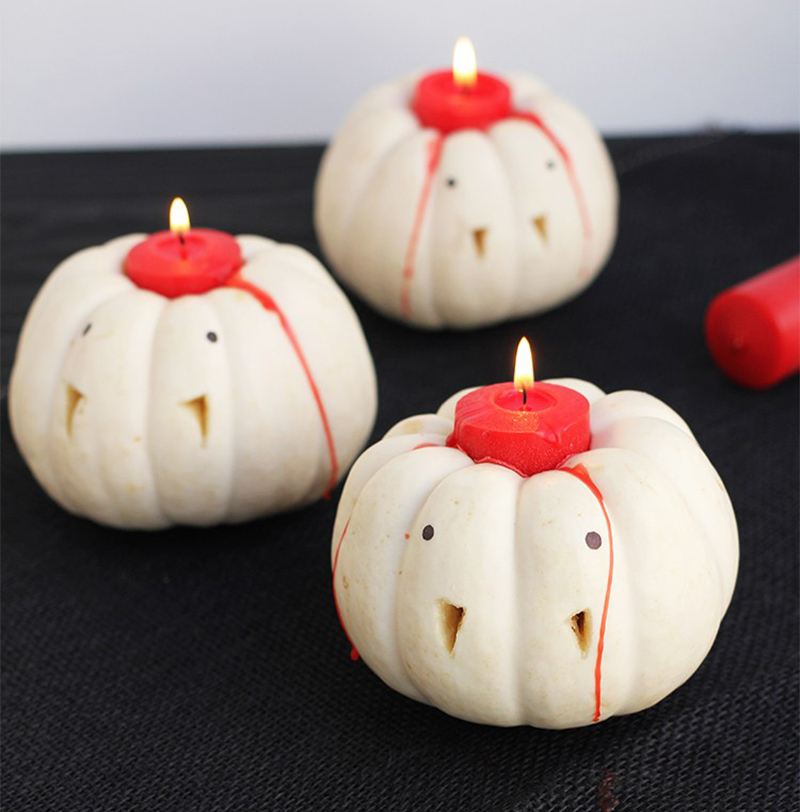 Double up your decoration game by creating this evil the venomous fangs of the pumpkin. Besides being purely decorative, it can also be a votive holder or eat the middle as well.
14. Pumpkin Carving With A Drill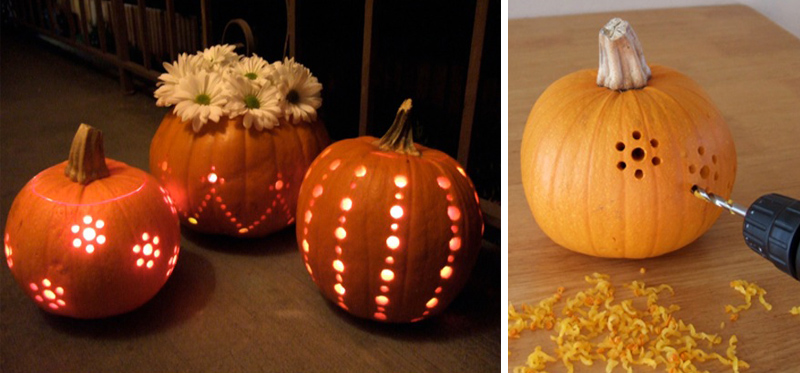 Take a drill and make some holes in the pumpkin then add a tea light inside. This will look great on your porch, backyard, or your stairs.
15. Grapes and Leaves Carved on the Pumpkin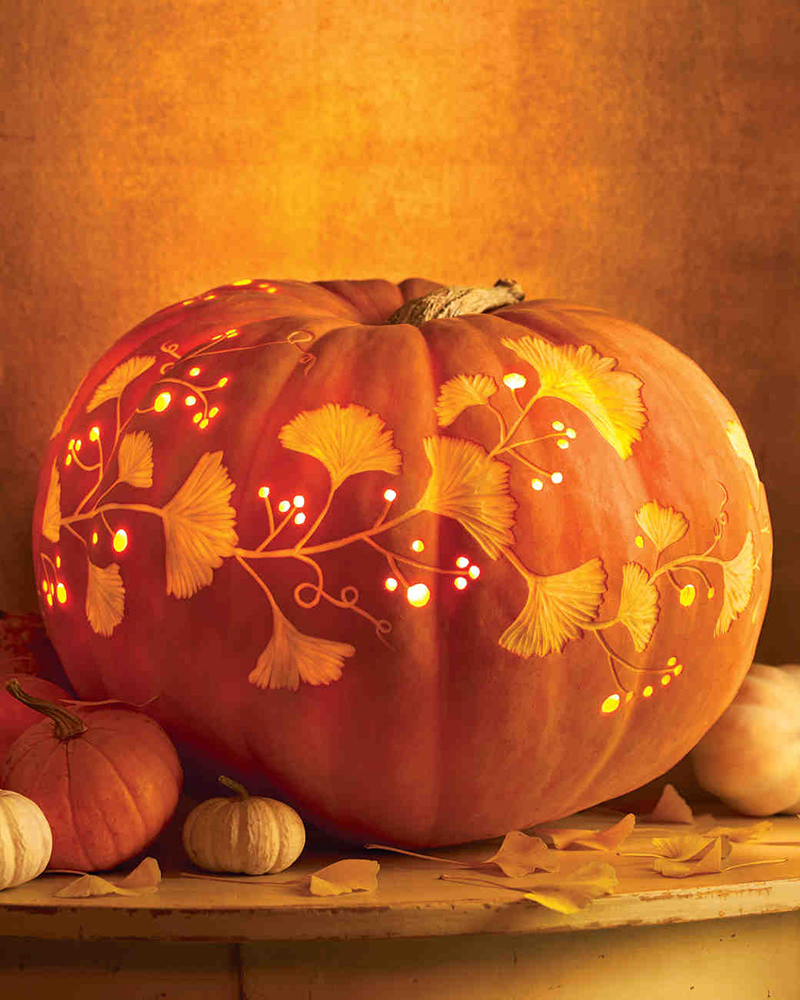 If you want one that has fallen form but will also be the perfect decoration for Halloween, try this one with the beautiful twisting and coiling vines, accented with berries and ginkgo leaves.
16. Happy-Go-Wacky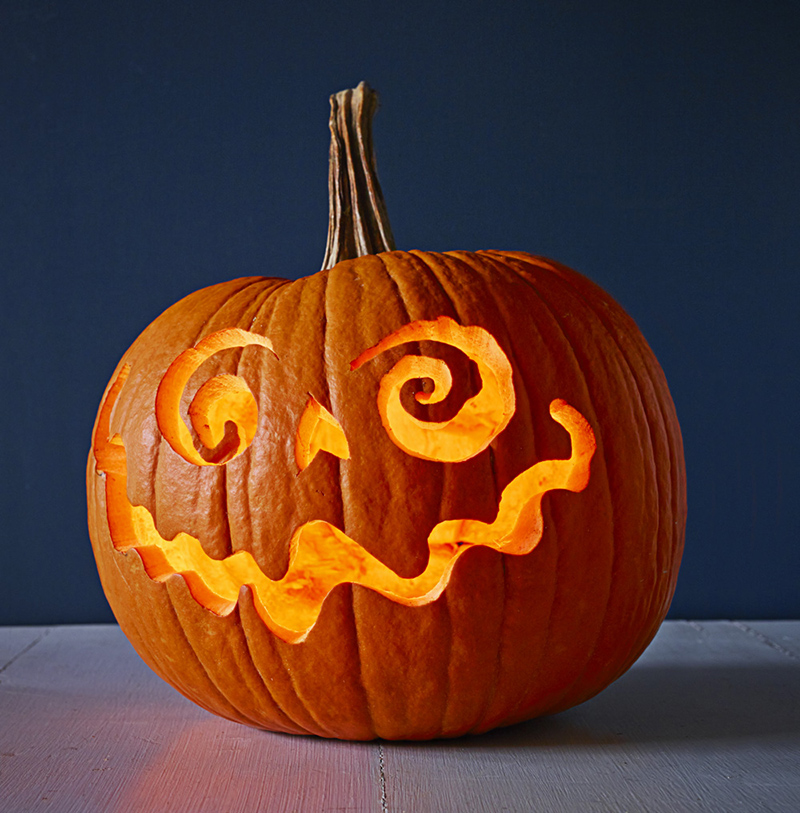 Easy strange shape to carve a pumpkin. You can really make the look different also to make it more fun!
17. Illuminating Fall Leaf Pumpkin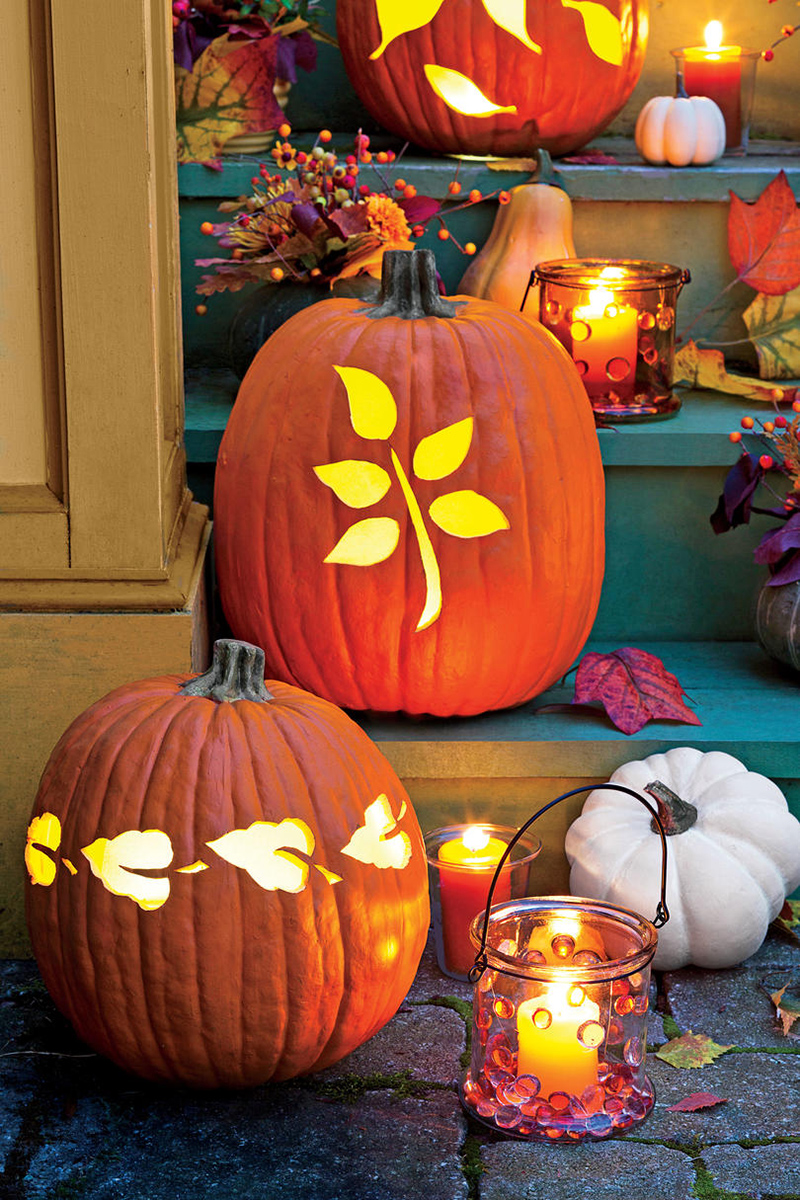 Using the leaf template, carve the leaves to the pumpkin then cut the yellow valium, and pin them to the inside of the pumpkin around the leaf openings. To light it, add a battery-operated candle.
18. Pumpkin Carving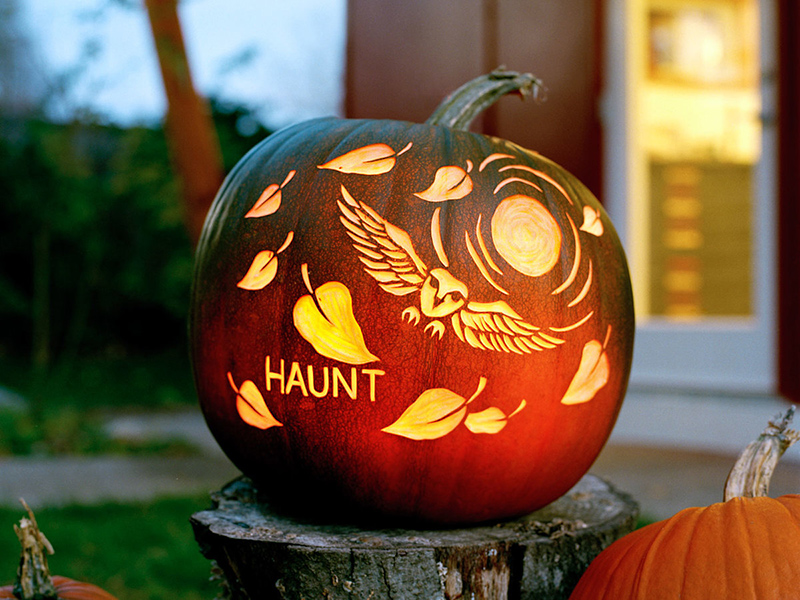 This one seems to have been a Harry Potter feel as the owl and I like the swirling design on it. Very artistic!
19. This Town Of Halloween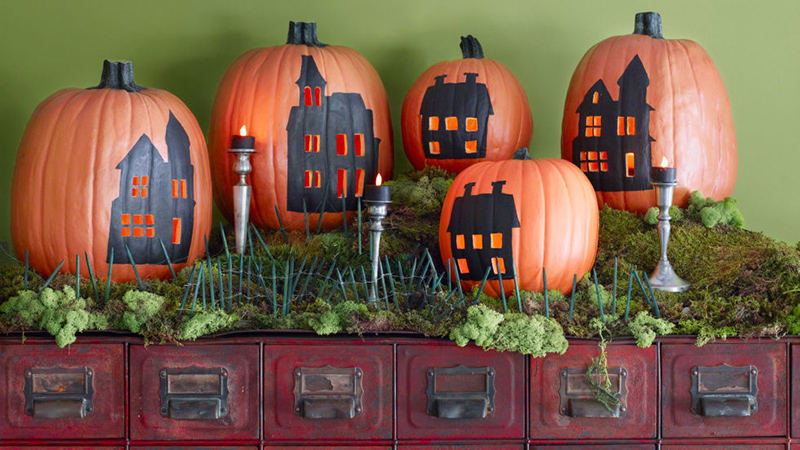 You can also create blips of the city using a pumpkin just by cutting the window and door then draw interactive water building on it.
20. Dear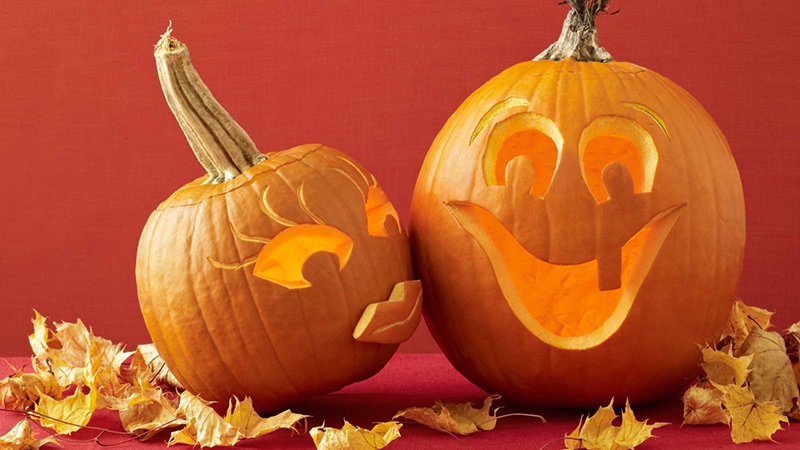 This is cute! Even the pumpkin can fall in love! Get two pumpkins with one larger than the other and make this funny decoration.
After seeing the list, you certainly will feel very creative and inspired to make a carved pumpkin decoration for your home! But if you hate carving, you can try to not carve a pumpkin that also looks very beautiful. Have you tried carving your pumpkin for Halloween? If not, this year may be the right time for you to give it a shot. The above design will you try?