Condo
20 Perfectly Crafted Small Kitchen in Condos
In a time where the residential houses are already in the city and not in the suburbs, condominiums, apartments, and flats have increased. Building the towers of the city grows from anywhere until most of the people you know who work in the city live in this contemporary to modern spaces they call home.
Imagine what it would be like living in a condo.
Admit it, as a millennial living in our parents' house, we always dreamed of moving out and have our own place to live and call our own. Where we can just be ourselves, bring our friends and have game night!
Imagine all this and more for you and maybe your sister, BFF or significant other! The options are endless but in this list, you will see some kitchen designs that you can choose if you plan to stay in a condo, or if you already – maybe consider some design to your space for a refreshing look!
1. Shaugnessy Street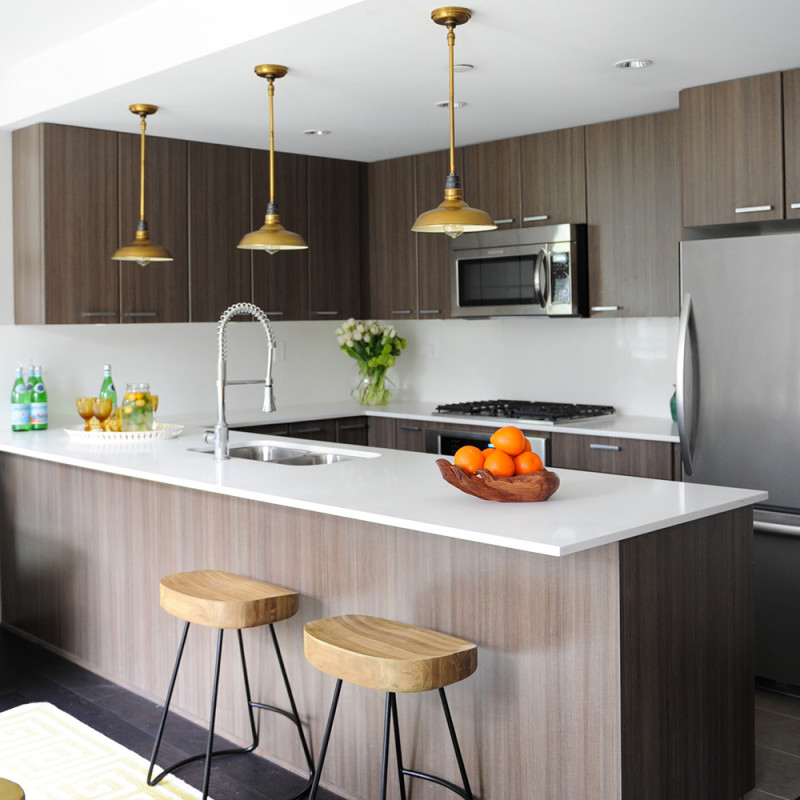 A mixture of contemporary and industrial look of this kitchen is pretty interesting. Color options for cabinets and kitchen island is the perfect partner for the stool and lamp used here.
2. Downtown Condo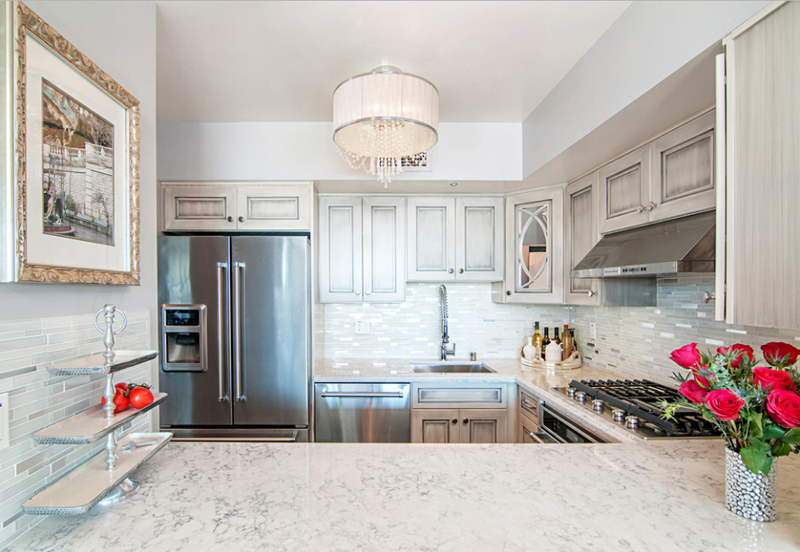 Talking about lighting fixture, one here, sure enough. Personally, I would not choose to put a pretty lamp like this one here because I need a functional system of kitchen lighting, but still, I think this is perfect for the overall theme of the kitchen of this condo.
3. London Studio Flat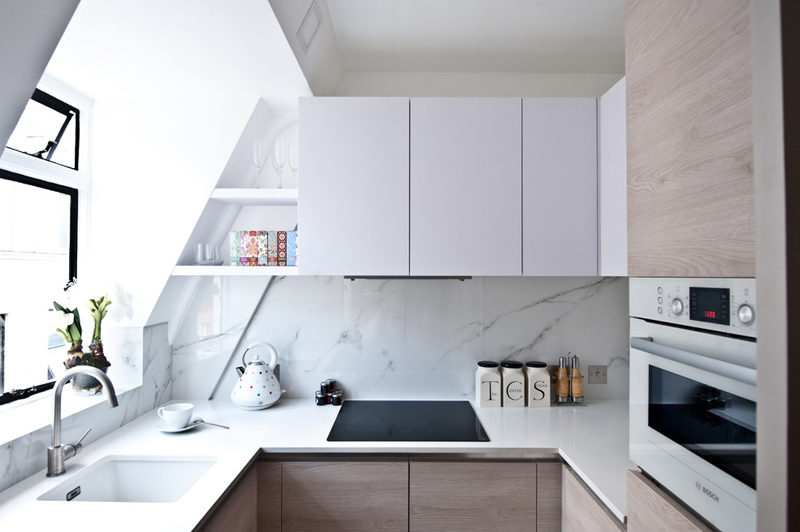 This small kitchen space is definitely the maximum of its potential by having customized shelves and cabinet work done to it. The ingredients, color, shape, and arrangement in the kitchen this certainly looks more interesting than what we see in the mall or home depot.
4. Homer Street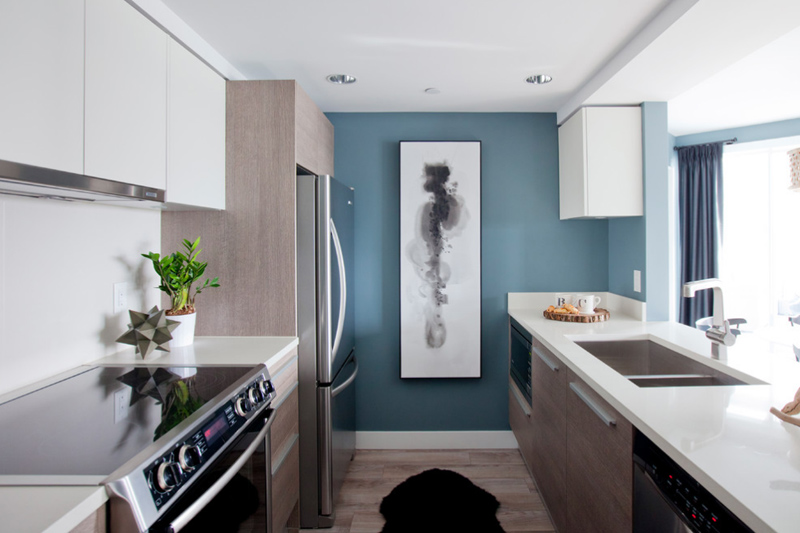 I was first surprised by the paintings or photos mounted on the wall. It says a lot about how contemporary this space is because if you may have seen, it is the only thing on the wall. This kitchen, however small looks radiant, heavenly and works.
5. City Front Terrace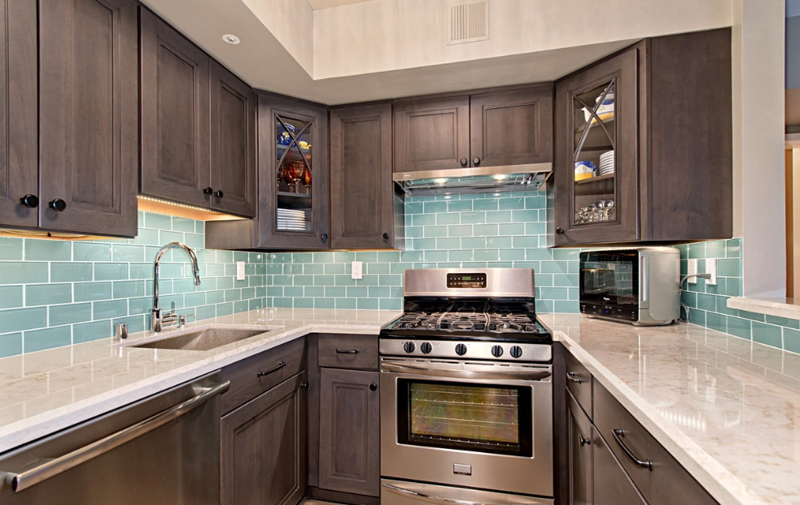 This kitchen space is larger than most of the kitchen space in this list but I want to share this one with you guys because they used the space above the sink to have more storage to this kitchen. We all know that the kitchen is one space that need tons of storage because of all the supplies and equipment we buy to use in there.
6. Modern Bently Condo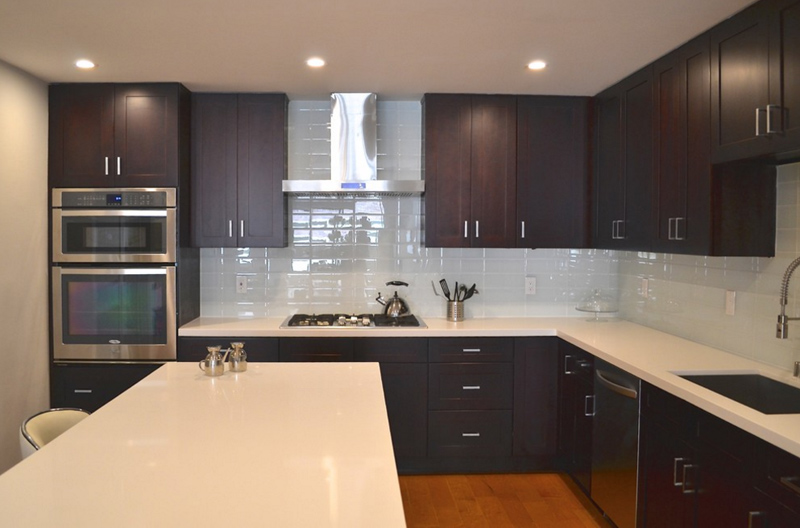 This modern condo has so much storage and beauty to offer. I can't imagine living in a house with this beautiful kitchen! I think I will cook and bake for my family every day with minimal hassle.
7. Summer Reef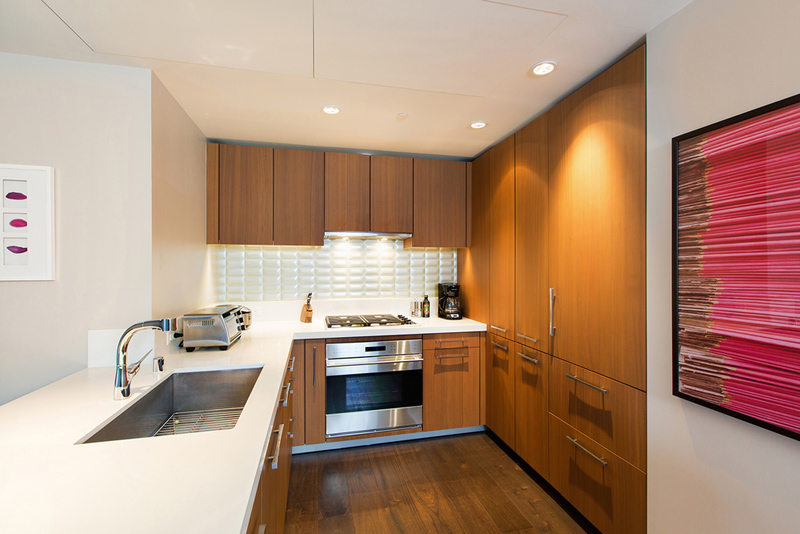 Photo: www.mcyia.com
L-shaped countertops are used when you have minimal space in your kitchen – this is more advisable than a lane counter and the range of arrangement because it does not adhere much to the design and also it does not allow a lot of traffic. This L-shaped kitchen neat and smart use of space.
8. Williamsburg Condo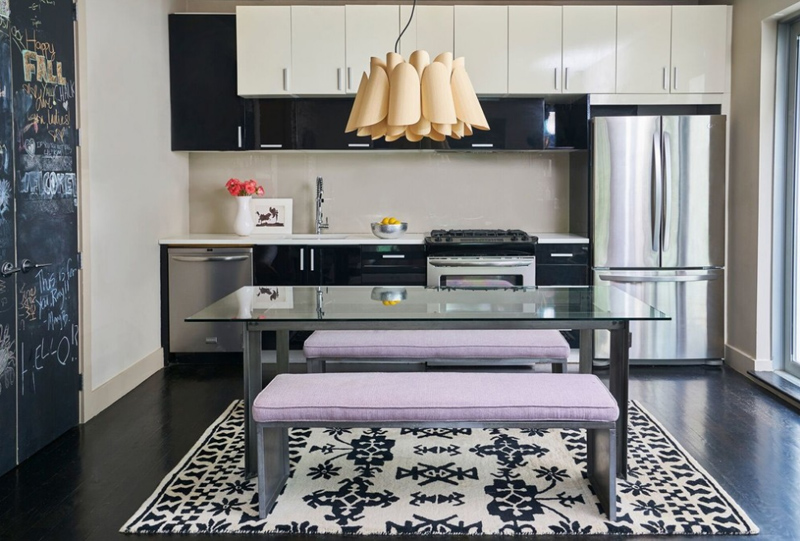 Well what do you know, I'm just talking about a lane counter and then it just happened to have in the next photo. As much as this space looks big enough, you see that the counter has been designed for a small kitchen activity. It is possible that the owners asked this or this in fact made over a small space and they need the traffic already including the dining room.
9. Pacific Wind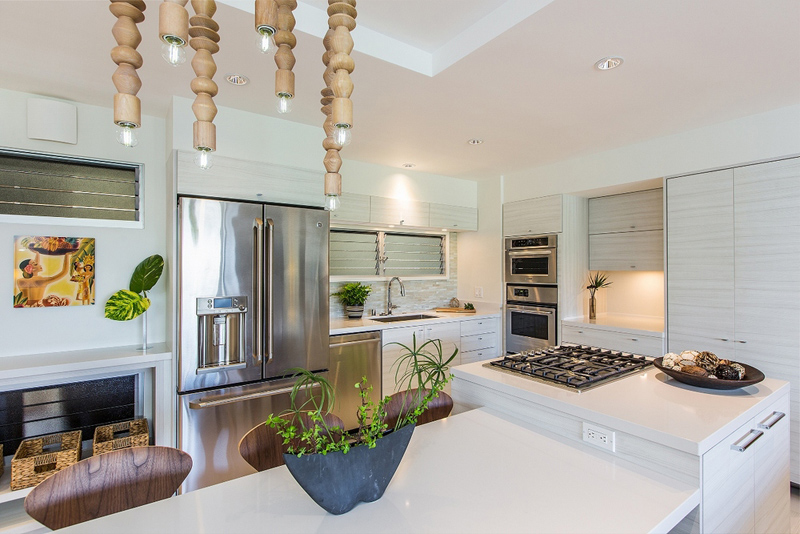 The kitchen has a wonderful option for decorative lighting; this is advised only for the nooks since there is less activity than in the kitchen counter or the range. I like the color palette used here and I think you will love it, too!
10. Downtown High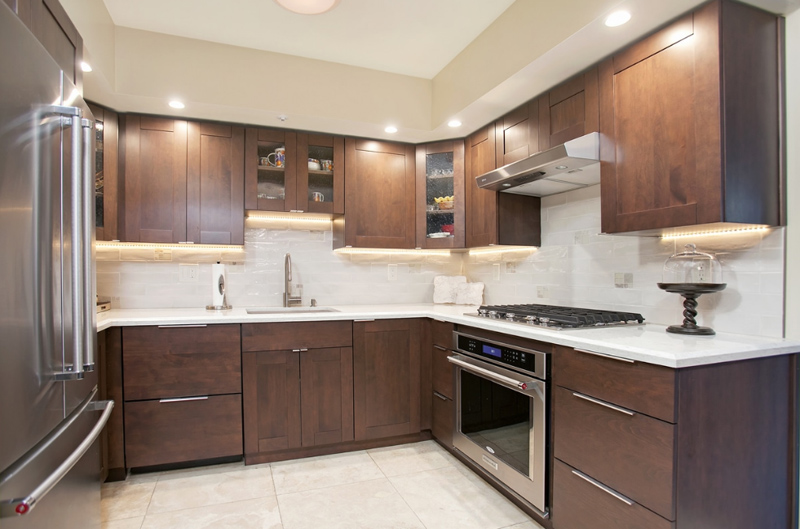 Earth tone designers' favorite! It is easy to fit with anything and do not have lasting value. This downtown High condo certainly exemplifies glamour and beauty and still maintaining functionality and class.
11. Pasadena CA Condo Remodel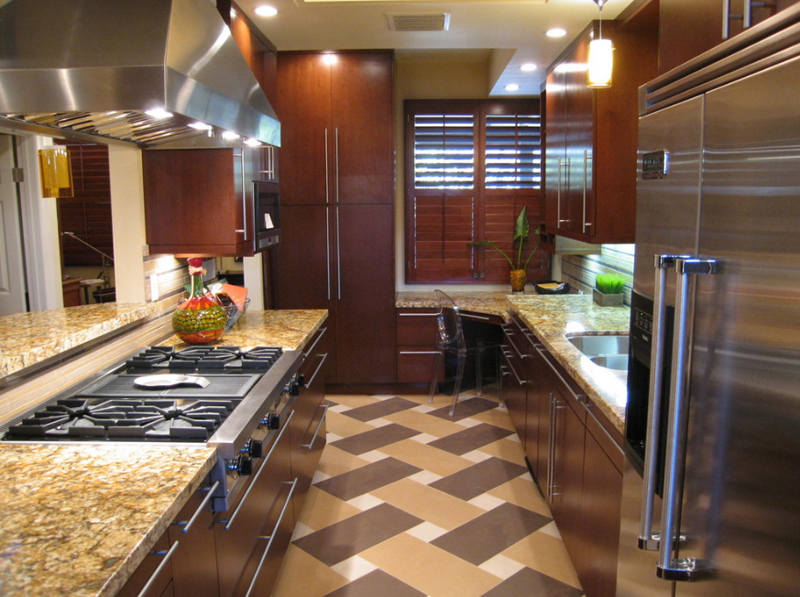 This kitchen certainly looks like it need a little more light-colored walls or cabinets because of minimal or ambient light it was and the dark colored cabinets and floor, this kitchen looks really dark. It has the equipment for sure, but sometimes, it's all in the lighting.
12. Jamaica Plain Condo
Kitchen Remodel
We only see a very minimal part of this kitchen, but it sure shows us how beautiful light colored cabinets contrast to the brown floor paired with it. Personally, I like how they have a lot of books on the toilet.
13. Efficiency Condo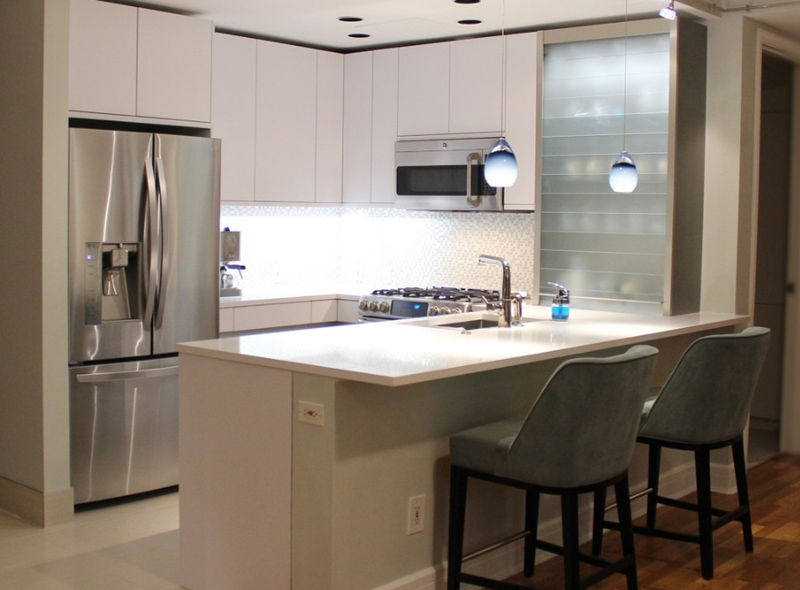 This cute little kitchen condo sure is neat and inviting. It looks really modern and classy and definitely high functioning. This kitchen space does not ring the kids or the kids because of how small it is, but I think this is one of the amazing starter kitchen for a small family.
14. Nashville Skyline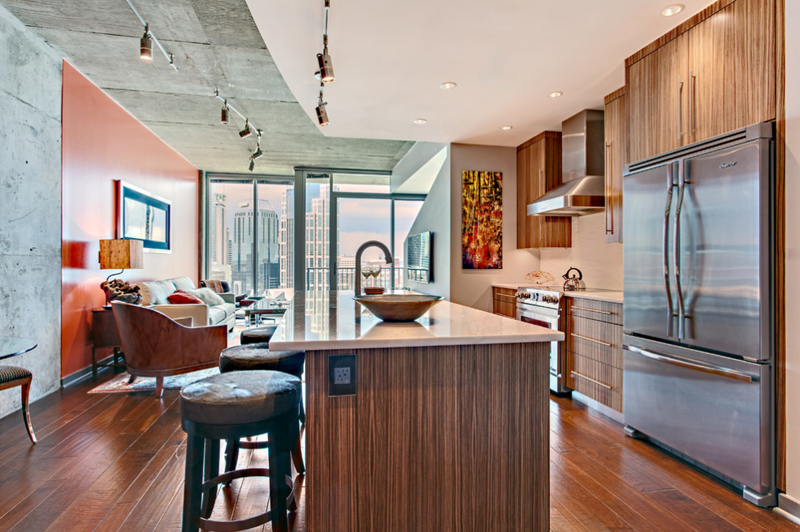 Open plan to the kitchen is a common for little or even large spaces, especially those with children in it because it allows parents to have a watchful eye for their children while doing work in the kitchen. The color combinations used in this kitchen look amazing and very comfortable.
15. The Diversity Of Stylish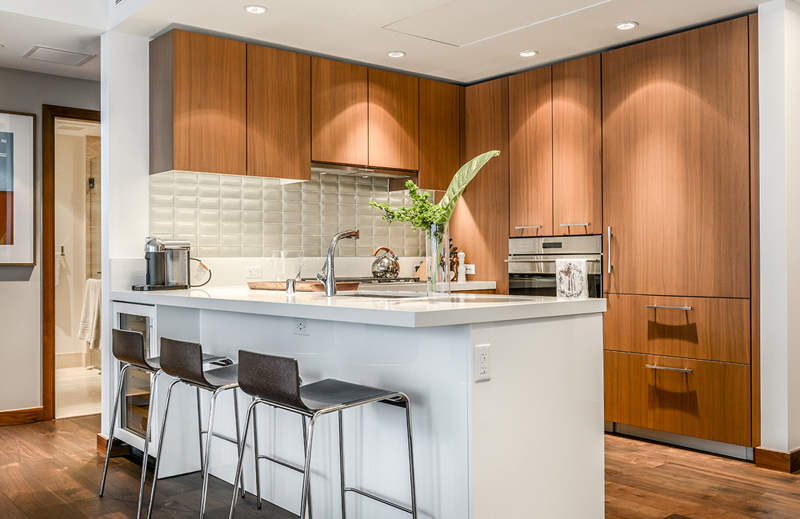 Another favorite for me in this list! This is one of the kitchen small condo that features a modern design and planning is intended for a single or newly married couples who have a passion for design and Architecture!
16. Bacon Condo Residential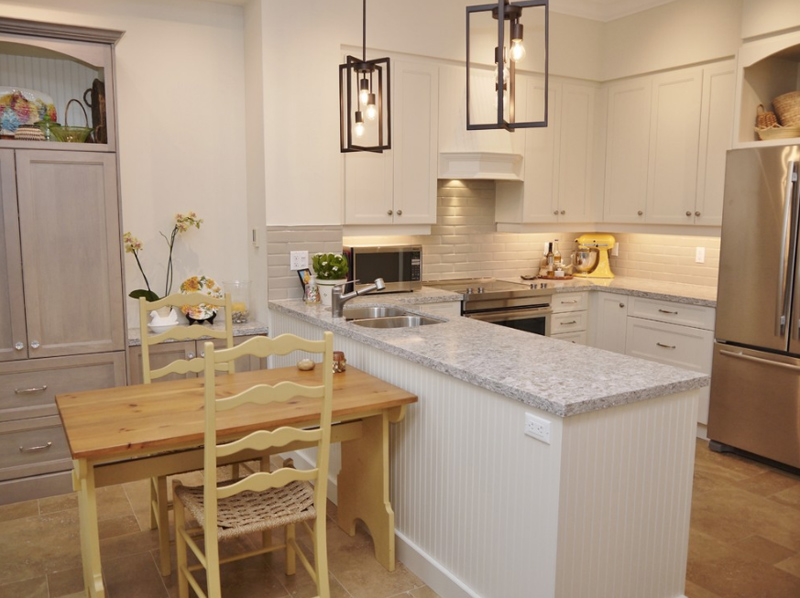 The kitchen
See the option table and chair adjacent to the counter – I remembered a certain book that explains what a cozy kitchen of a contemporary or modern one. Now, in this photo, I feel a little confused with the whole concept but it sure is a combination of traditional and contemporary space, all at the same time!
17. Downtown Austin Condo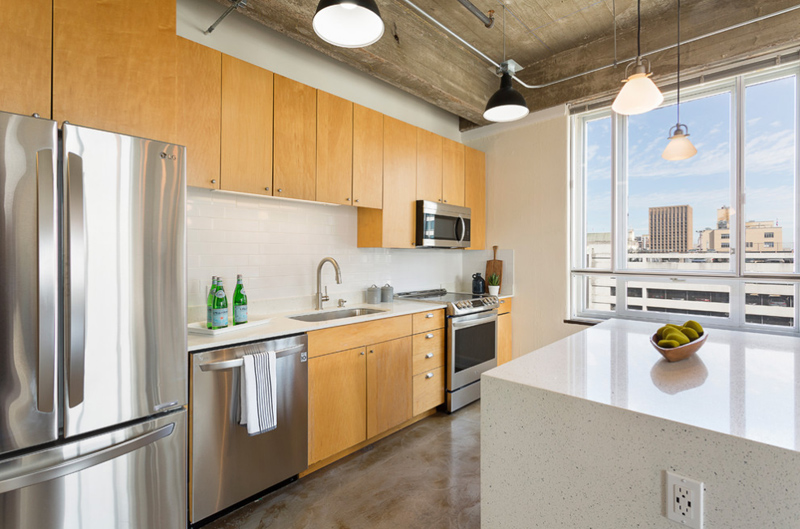 Exposed ceiling and concrete rough floor, I think this is one of the condo-loft design which is admired by most of the Millennium and those young at heart. The color used for the cabinet work is amazing and really catches the eye – I really love it!
18. Pretty & Petite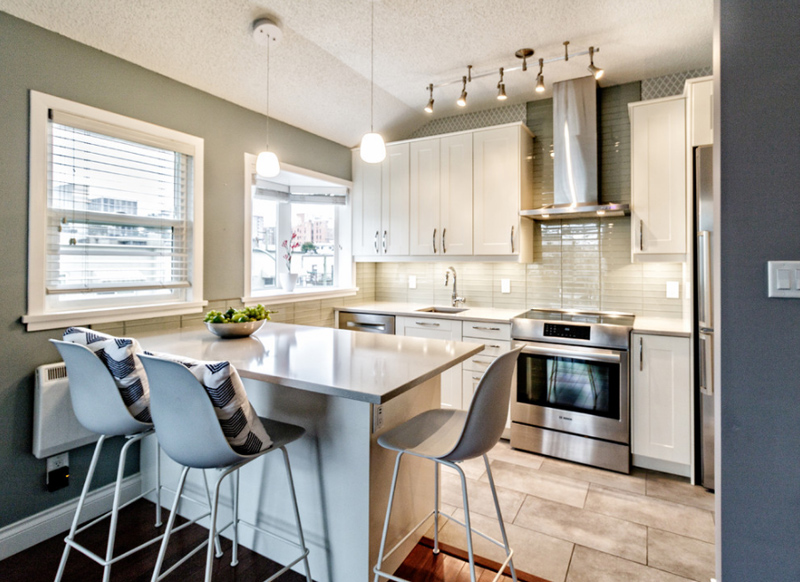 HOME
Beautiful and petite! That sure says a lot about this space; it is in fact, small, and has the foundation needed in the kitchen and certainly looks inviting and ideal for entertaining guests. This is one of the gems H2 Design Studio definitely did a great job on top!
19. Emilson Condo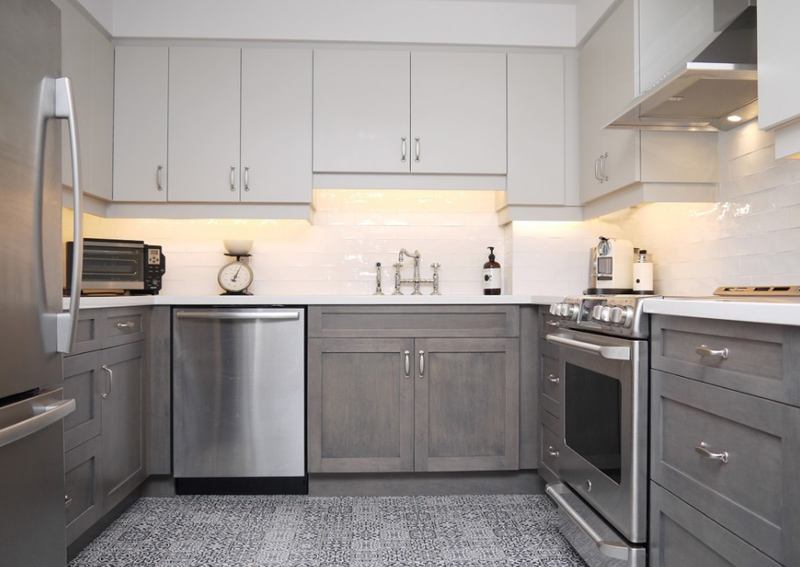 The kitchen
Wow! This Emilson condo definitely looks amazing! The color palette is beyond words. I really dig the sneaky option on the knob of the cabinet and the faucet too!
20. City Condo
This kitchen looks really clean! I think I will be afraid to make such a mess in here because the only cleaning will be easy! But kidding aside, I think living in a condo in this city has too many advantages and in addition from eating a lot, you can always choose to cook since the grocery store anywhere!
Whether you live in a condo or not, these 20 Perfectly-Made Small Kitchen in the Condominium will really be a great help when it comes to redecorating or even in the concept part for your own condo or home. If you're interested, you can also check 20 Amazing Kitchen with White chandeliers and share with family and friends!